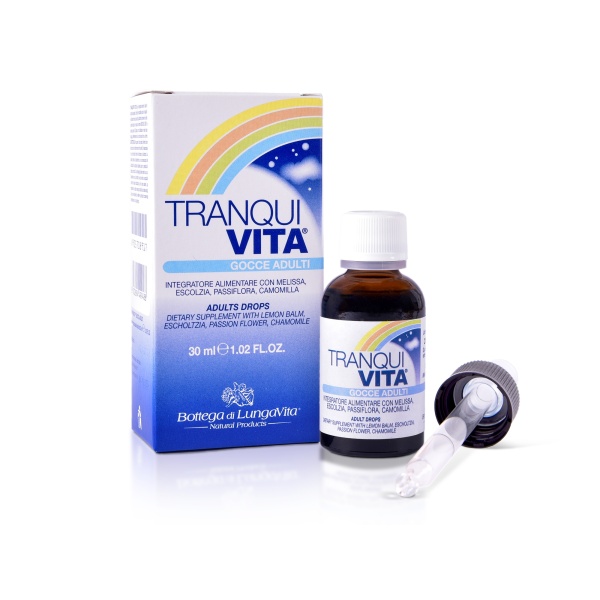  
DROPS
Dietary supplement with chamomile, lemon balm, passion flower and escholtzia, useful to fight nervous complaints caused by anxiety, excitability and stress.
ACTIVE PRINCIPLE: lemon balm, chamomile, passionflower, escolzia.
FUNCTIONALITY: Anxiety and stress, jet lag, insomnia.
Dietary supplement based on herbal ingredients, lemon balm and chamomile promote relaxation and mental well-being, the escolzia and passionflower help sleep and are indicated in cases of stress.
Acacia honey, Water, Fructose, Lemon balm leaves d.e. tit. 4 % rosmarinic acid (Melissa officinalis L., maltodextrin), Escolzia flowering tops d.e. tit. 0,2% total alkaloids expressed as protopin (Eschscoltzia californica Cham., maltodextrin), Passionflower d.e. tit. 4% total flavonoids calc. as vitexin (Passiflora incarnata L, maltodextrin), Chamomile flower d.e. tit. 0,3% total apigenins (Matricaria chamomilla L, maltodextrin), Acidifier: Citric acid, Preservatives: Sodium benzoate, Potassium sorbate; Flavour, Thickener: xanthan gum.
Promoting sleeping
Increase the gradual recovery of sleep and reduce the number of nocturnal awakenings.
We recommend the intake of 30 drops per day diluted in half a glass of water preferably in the evening before bedtime.