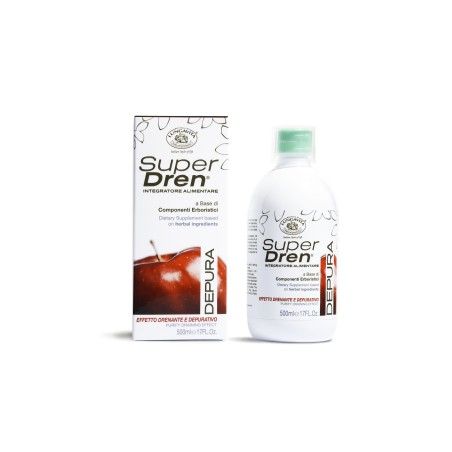  
DEPURA APPLE
Purifying treatment helps the body purification processes with apple polyphenols. Specially recommended during seasonal changes and to get back into shape.
ACTIVE PRINCIPLE: apple extract, florizin, milk thistle, curcuma longa, artichoke, dandelion, birch, rosemary.
FUNCTIONALITY: detoxifying and depurative.
Dietary supplement based milk thistle, Longa turmeric, green tea, artichoke, dandelion, rosemary, birch extracts and apple. It promotes the drainage of excess fluid and supports the body purification processes. Great beneficial action is provided by the pure apple extract polyphenols that work in synergy with the milk thistle, artichoke and birch which promotes draining function. Gree tea and Dandelion are useful to fight fluid retention and improve cellular detoxification.
Water, Fructose, Glycerine, Milk thistle seed integument of F.E. (Silybum marianum Gaertn.), Turmeric rhizome F.E. (Domestic turmeric Valeton (syn Turmeric longa l.)), Lemon juice, green tea leaves titrated tit. 50% total polyphenols (camellia sinensis (l.) Kuntze, Maltodextrin), Artichoke leaves titrated tit. 5% by caffeilchinici calc acids. as chlorogenic acid (Cynara scolymus l., maltodextrin), dandelion root titrated tit. 2% inulin (taraxa cum officinale weber., Maltodextrin), Birch leaves titrated tit. 0.3% total flavonoids expressed in iperoside (Betula pendula roth., Maltodextrin), Rosemary leaves titrated tit. 10% carnosic acid and carnosol (Rosmarinus officinalis L., maltodextrin), preservatives: sodium benzoate, potassium sorbate; Aroma, apple fruit titrated tit. 80% total polyphenols and 5% in florizina (Malus domestica Borkh. (Syn. M. Sylvestr is (l.) Mill.)).
Eliminating toxins and keeping the body free from cellular waste.
Purifying the body. 
We recommeded to take 20 ml diluted in 1 1.5 litres of water during the the day.