NATURE MEETS SCIENCE AND THRIVES ON RESEARCH
We are herbalists, Scientists, Researchers.
We experiment every day in our "Bottega" in order to create and produce excellence in our products.
We have been doing for more than 40 years.
Our "Bottega" is our internal Laboratory where we study and test meticulously every single natural ingredients.
The result is the development and generation of exclusive Long-lasting life formulations thanks to the highest scientific technologies discoveries in perfect balance with nature.
A balanced combination between the power of natural ingredients and deep scientific knowhow in using and mixing them.
Nature meets science and thrives on research.
History
Strong and passionate personality, where ancient tradition flows into contemporaneity that follows continuous research; proud, solid, but full of fantasy, which is to say a "Mediterranean character". Our Origin: We are ITALIAN and we are proud of our root Italy is beautiful and fruitful, famous all over the world for its lifestyle, elegance, design, poetry, parties, but above all for the wealth and the goodness of the nature and its fruits of prosperity, source of biodiversity and precious pharmacological heritage.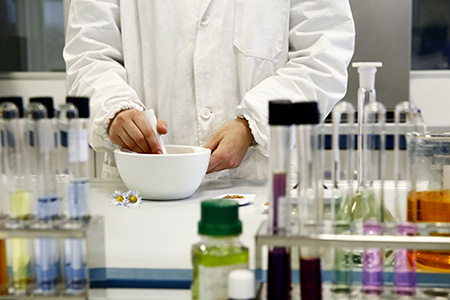 Italian style
We have an important mission and we set up challenging objectives in our daily activities where we try to realize innovative products using and revisiting ancient remedies of Italian Phytotherapic Tradition in synergy with the most recent technological discoveries.
The first is respect of the tradition:: defending those ancestral values that everyone know since childhood nourished by flavor, perfume, colors of family traditions.
The second is devotion to science:: Bottega di Lungavita embodies the most recent biomedical and dermatological research discoveries.
The third is experimental curiosity:: Invention comes from intense sharing moments and desire of donating our own contribution to the community.
Our formulations and ingredients
During pre-formulation and planning phase, we explore new strategies in order to create products with high performances with particular attention to the safety and purity of our ingredients.
In the formulation phase, the experimental research of wide-ranging synergies brings new functional and rigorously tested solutions.
Free from philosophy
In experimenting, researching and developing always new ideas and formulation we exclude those substances which may affect our body. Our experience allows us to be able to minimize the allergenic risk using always ingredients with a high tolerability profile.
---
OLI MINERALI: NO
PROTEINE ANIMALI: NO
PETROLATI: NO
SILICONI: NO
PARABENI: NO
ALLERGENI DEI PROFUMI: NO
ETANOLAMINE: NO
SLES: NO
FTALATI: NO
METACRILATI: NO
COLORANTI SINTETICI: NO
GRANO/GLUTINE: NO
OGM: NO
Certifications
Respect for the environment and customer protection are at the top of Bottega di Lungavita's objectives.
It is precisely this commitment to improving the quality of its products, protecting the environment and guaranteeing the health and safety of workers that has enabled Bottega di Lungavita's production facility to acquire the following certifications:
UNI EN ISO 9001
UNI EN ISO 14001
UNI EN ISO 22716
OHSAS 18001
RESPONSIBLE CARE PROGRAM
FDA APPROVED
HALAL APPROVED
ICEA- ECO BIO COSMETICS
Sustainability - Bottega Di Lungavita commitments
Our team is directly involved in 4 priority areas:
Employee's health and safety. BLV ensures employees safety with an integrated approach that includes: job organization, safety management, health protection from dangerous substances, advanced industrial processes.
Environmental protection. BLV acts pro-actively to satisfy environmental standards, using environmentally friendly products and processes, with adequate environmental management systems and effective projects aimed to lower emissions and wastes.
Safety Processes. BLV acts in a precautionary, systematic and exhaustive manner: for every production processes and equipment used, risks are identified, evaluated, deleted or reduced, assuring the respect of the highest safety standards.
"Product stewardship" or Responsible Product management. BLV acts respecting safety, health and environment standards, during all the product lifecycle: from planning to after sales supervision until eventual disposal.