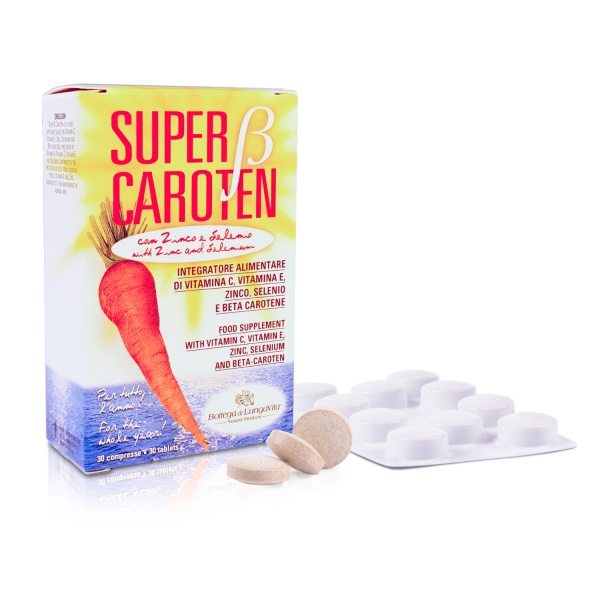  
SUPER BETA C CAPSULES
Useful to stimulate skin self-guard during sun exposure and to promote an intense tan, based on vitamins C, E, betacaroten, zinc and selenium.
ACTIVE PRINCIPLE: Vitamin E, C, selenium, zinc, beta-caroten
FUNCTIONALITY:antioxidant activity
Dietary Supplement of vitamin C, vitamin E, betacarotenm, Zinc and selenium.
It is useful when the diet lack these element or when there is an increased organic requirement by the body.
These product nutrients, thanks to their antioxidant activity, neutralize damages made by UV rays or other environmental factors.
Dibasic calcium phosphate, Beta-carotene ( Sucrose Starch E), Vitamin C (L-ascorbate Soccer), Zinc L-Monomethionine, Vitamin E Granular (Di Acetate D, L-Alpha-Tocopheryl, Maltodextrin), Stabilizer: Microcrystalline Cellulose; Selenium Yeast, Anti-caking agents: Magnesium Stearate, Silicon Dioxide.
Promoting and stimulatin tanning
One tablet per day, with a glass of water, preferably in the morning