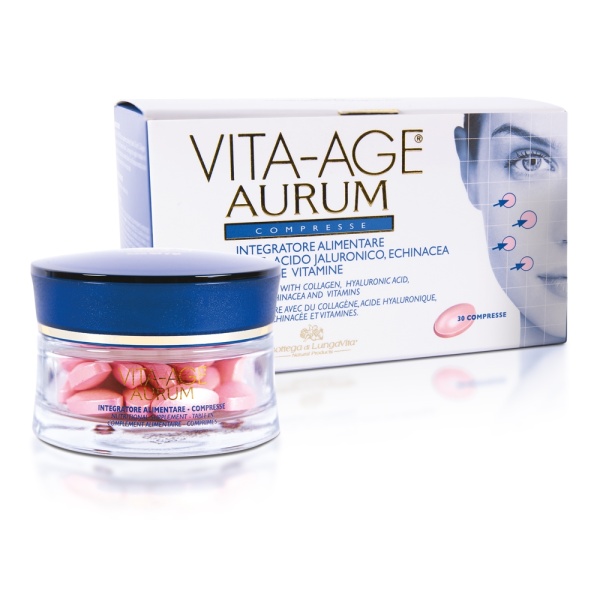  
DIETARY SUPPLEMENT WITH HYALURONIC ACID
Anti-aging dietary supplement with collagen, elastin, hyaluronIc acid and vitamins.
ACTIVE PRINCIPLE: Collagen, Elastin, hyaluronic acid, cornflower, vitamin A,E,C
FUNCTIONALITY: densifying, preserves tone and elasticity
Dietary supplement in tablets, it promotes the collagen formation and its antioxidant action fights damages wrought by free radicals, thus preserving skin tone and density.
Bulking agents: dibasic calcium phosphate, microcrystalline cellulose; Marine Collagen (Collage¬ne and elastin), Citric Acid), Vitamin C (L-ascorbic acid), hyaluronic acid, Vitamin E (acetate dl-alpha-tocopheryl), Vitamin A (retinyl palmitate), Echinacea pallida aerial parts and roots es (Echinacea pallida, maltodextrin), Anti-caking agent: silicon dioxide, magnesium stearate. Coating agents: hydroxypropyl methylcellulose, stearic acid. Dyes: Pan¬ceau 4R (E124) *, Indigo carmine (E132), Brown HT (E155), titanium dioxide (E171).
Redensify, strengthen and nourish the skin.
Preserving tone and elasticity.
We recommend 1 tablet a day.