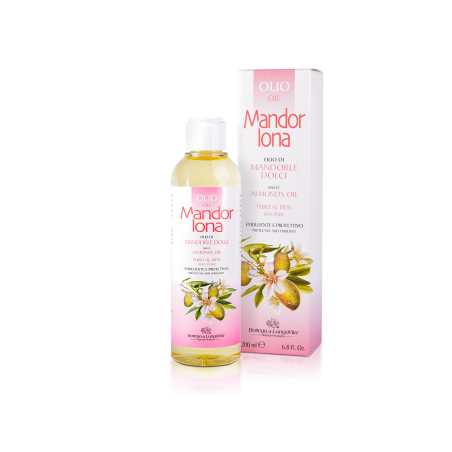  
SWEET ALMOND OIL
Extra pure Oil obtained by cold pressing.
It soothes, nourishes, softens, provides elasticity, moisturises, protects. It has always been considered a natural remedy for preventing stretch marks.
Fragrance free.
ACTIVE PRINCIPLE: wheat germs oil, royal jelly, soft almonds oil
FUNCTIONALITY: soothing, nourishing, emollient, elasticizing, moisturizing
Precious non-greasy moisturizing and nourishing plant oil.
Alone or with any type of cosmetic cream, is the ideal product to ensure an elastic, smooth skin.
Thanks to its high moisturizing and elasticizing power, sweet almond oil has always been considered a natural remedy.
Its soothing properties provide immediate relief for thin and delicate skin, giving elasticity and softness.
Massage it regularly onto the roughest parts of the body (knees, elbows) to soften and smooth.
Prunus amygdalus dulcis oil (sweet almond oil).
Nourishing and softening mature and tired skin
Manteining optimal hydration
Giving the skin firmness, brightness and elasticity
Apply to cleansed and possibly damp skin or after a steam bath and massage until completely absorbed.
It can also be used as a hair mask: leave on hair that has been rinsed with fresh water for 20-30 minutes, before shampooing, to restore softness